VW Campervans for Sale
Are you looking to purchase a campervan that is reliable and packed with all the extras for a road trip with guaranteed comfort? Discoverer Campers is the best place for those looking for a VW campervan with a fantastic layout.
Your New Volkswagen Transporter Camper Is Waiting For You!
Purchase your very own Volkswagen transporter campervan from Discoverer Campers, patented with versatile interior options to suit your preferences! Every VW transporter camper we have for sale is expertly designed to give our customers the most luxurious and comfortable trips no matter how far they want to explore.
Practical Layouts
Each VW camper for sale on our website is developed to be the most advanced van on the market. These vehicles combine reliability and comfort with inclusions such as double or single beds, swivel-out stoves, stainless steel sinks and microwaves, walk-through access to the driving cabin, and much more!
Perfect for Family Use
With room for up to three travellers and the option to include a children's roof bed, Volkswagen campers are spacious and well-equipped for any family getaway. Whether you are going on a long trip around the country or a short holiday to escape the hustle and bustle of the city, Volkswagen is sure to have the perfect campervan for your needs.
Top-Quality Campers
Discoverer Campers have over 30 years of experience in the recreational vehicle industry. We pride ourselves on offering quality Volkswagen campervans for sale that have been expertly designed for your travel requirements.
We stock the latest units of VW transporter campervans, all for sale at highly reasonable prices, and we're continuously updating our listings. If we don't have the perfect vehicle for you right now, you can keep an eye on this page to catch all our latest stock.
Contact Us Today!
If you are interested to know more about any of the VW campervans listed on our website, please get in touch with a member of our team! You can reach us via phone or online enquiry, and we will be happy to provide further information on any of the campers we have available.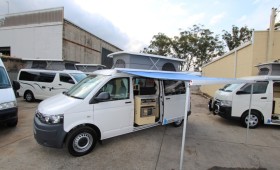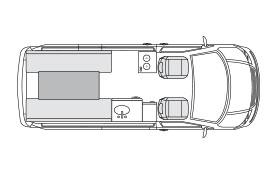 The Volkswagen twin bed design allows for a huge bed / lounge area during the day, a tried and tested design. The single beds also allow separate sleeping for 2 if desired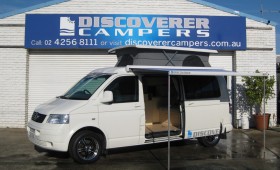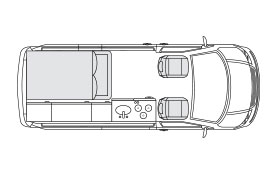 The Volkswagen Bed seat layout has been so popular it has been around since the 60's. The easy fold down lounge bed seat allows for 2 extra passengers and combined with swivel seats is a very roomy camper